Cutting Edge Sound Technologies for Consumer Electronics
3D-FYE™ Technology Turns Consumer Electronics Into a 3D Sound Experience
Infinite Algorithms, a Silicon Valley technology company, is a leader in high-quality 3D Virtual Sound solutions for a wide range of consumer products. Applications include 2D and 3D televisions and game systems, home theater sound bars, desktop music systems and sound docks for mobile devices.
We offer both system-level and chip-level solutions that provide best-in-class spatial audio performance from compact, slim form-factor systems.
Implementation is also simple and straightforward. Our 3D-FYE™ (3D For Your Ears™) technology provides an easy path to rapid product simulation and development. Audio equipment manufacturers can determine how their end products will sound long before actual product development begins. And product development can progress quickly and confidently, without the delays and uncertainty inherent with complex software solutions.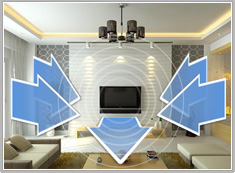 People are talking
"The really unusual thing is I am hearing sound at seemingly appropriate places- 10 feet high, even though the speakers are 6-feet high–and all in their appropriate positions. The other really remarkable thing is that you can walk across the room and [the soundstage] pretty much holds up. It's as good as if it were a real 5.1 [system], and in some ways better because a 5.1 doesn't have the vertical [positioning]..."