Cutting Edge Sound Technologies for Consumer Electronics
3D-FYE™ Silicon Solutions
Integrated 3D-FYE™ Chip Solutions Enable Rapid, Robust Development
Our product offering extends from ASIC IP cores to discrete ASICs, signal processing modules and complete audio systems. Our solutions enable TV manufacturers to integrate complete 3D Virtual Sound into thin, flat TV designs. Soundbars and sound docks can also produce superior sound quality and enhanced multimedia experiences.
FPGA, ASIC chip and IP core solutions for Rapid Product Development
Input and Output
8 audio input channels allow the processing of up to 7.1 formats, as four I2S input streams, from HDMI, HDTV tuners, surround decoders and A/D converters
Excellent virtual sound rendering with as few as 2 inputs
Up to 32 speaker array outputs, as sixteen I2S streams, for direct interface to Class-D digital power amplifiers or D/A converters
System Configuration /Adjustments
56 parametric BIQUAD equalizer filters are available (7 per each of the 8 inputs). Low pass, high pass and bandpass/band-reject filter types are selectable, with independent adjustments for center frequency, gain, and Q
Independent input level adjustments with 1dB resolution are available for each of the 8 inputs
All filter and level adjustments are accessed through I2C
PC-based software drivers are available for filter and level configuration
Implementation
IP core solutions for integration into system ASICs and multi-channel amplifier SoCs
ASIC and FPGA signal processors for specific applications
Board-level systems for custom applications
Internal Operation
32-bit wide data paths with 67-bit accumulators
48 KHz, 24 bits/sample, 64X oversampling, standard or left-justified I2S format
Standard 7-bit addressing, 2 bytes of address and 2 bytes of data, 400 KHz clock rate, I2C slave
Very low latency (<2mSec) avoids lip-sync issues
Scaling and System Design
3D virtualization is effective with 8 - 16 speakers
3D virtualization is spectacular with 16-32 speakers
Full 360-degree virtual sound coverage can be achieved with 2-array (front + rear) and 4-array (front + rear + left side + right side) systems
Up to 32 outputs can be divided to drive 2 or 4 arrays from one processor
Very good bass response can be achieved without a subwoofer
Works with nearly all dynamic speakers
Works with speaker array spacings in width, height and depth (accommodates planar, concave spherical and concave cylindrical array surfaces)
Simplified System diagram is shown below:
Small, Efficient, Silicon Footprint
Less than 200K ASIC gates for processing
Small sample storage minimizes processing delays
Direct connection to I2S inputs from HDTV tuners, HDMI sources and surround decoders
Direct connection to external power amplifiers with I2S inputs
Can be integrated with Class-D power amplifiers to create a 3D Virtual Sound SoC
Entire design tested and verified
FPGAs available for system prototypes and simulations
Enables rapid, straightforward product development (no code to write, test and debug)
Frequently Asked Questions 
Here is the link for FAQs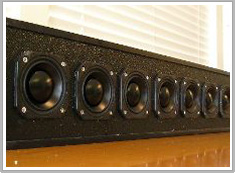 A 16-speaker array that meets the high performance requirements of a high-end home theater system.